Volunteer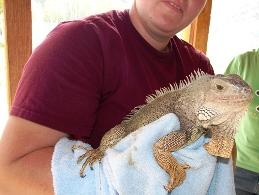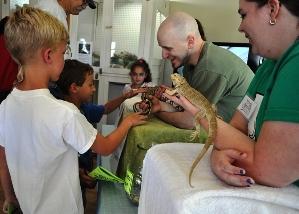 Volunteers are very important people at Colorado Reptile Humane Society. As a private, non-profit organization, we rely on the assistance of caring and hardworking volunteers in all of our programs. To volunteer, you must be at least eighteen years old and willing to make a six-month commitment of approximately three hours per week. We require a $15.00 contribution at orientation for a volunteer T-shirt and to help defray the cost of the volunteer program, leaving more resources for the shelter reptiles.
In a year's time, CoRHS receives nearly 300 unwanted and abused reptiles, and helps hundreds of people and animals throughout Colorado and beyond. Our main shelter is located in Longmont, north of Boulder.
To get started, potential CoRHS volunteers should complete and submit our
on-line application.
We will contact you for a volunteer interview and get you started helping homeless reptiles!
Why Volunteer?
Develop new skills while exploring the field of animal care




Meet new people with similar interests




Acquire work experience for future endeavors




Receive support and guidance from professional staff



Most importantly, volunteering will make life brighter for the reptiles in our care, and better for the people and animals in our community.
We are accepting applications for the following Volunteer Positions:
Reptile Care Assistant--Saturdays only.
Assist in the care of snakes and lizards including cleaning, feeding, and socialization. Assist in the care of ill and injured turtles and tortoises including soaking, feeding, and treatments. Monthly hibernation checks, rehydration, and record keeping.
Please fill out the on-line application OR fill out the paper form and either fax or mail to the shelter:
CoRHS
13941 Elmore Road
Longmont, CO 80504
Fax: 303-776-5206

VolunteerApplicationCURRENT.pdf

---